Original QikQbn Eclipse GSX
Photo Gallery
In the 1990's I was heavy in to the Fast and Furious scene. I owned 4 Mitsubishi Eclipses.
1990 GS, 1992 GS-T , 1994 GSX, 1997 GSX. I modified all of them in some way .
The Turbo models were obviously the ones that became my obsession.
Here is a quick story and look at my Pride and Joy from my DSM (Diamond Star Motors)days.
A 1997 Mitsubishi Eclipse GSX All Wheel Drive.
I purchased this car brand new as a 2.0 liter turbo charged 4cylinder that made
210 hp and 200 lbs of torque stock. Stock performance was 0-60 mph in 6.3 and
1/4 mile of 15.0 @ 95 mph. After a hobbie that turned into a mental illness this
car would go through major engine modifications with larger turbos and exhaust
system that reached a climax of close to 475 horsepower and 450 lbs of torque.
This car saw a best of 0-60 mph in 3.4 seconds and quater mile times of
11.7 @ 120 mph and a top speed of 180 mph.
I Sold this car back in 2004. Wish I knew what happened to it. It was an awesome car!
Additional Photos Page Link
http://qikqbn.itgo.com/photo.html
Original website I created in 1999 (Similar info also listed below)
http://qikqbn.itgo.com/index.html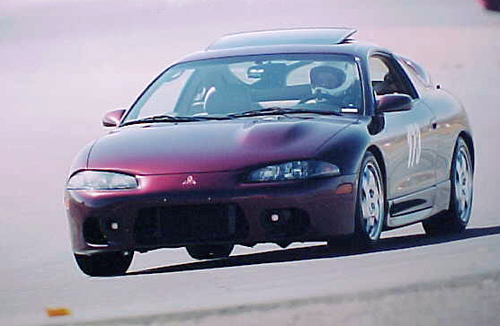 The heart of the beast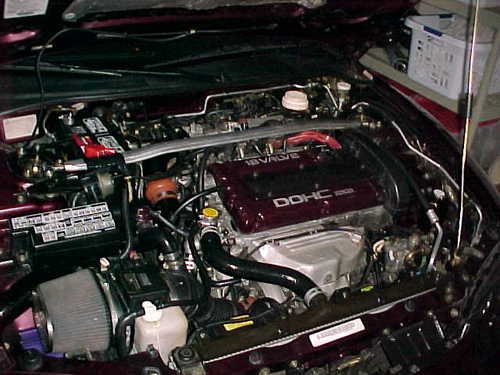 BOOST CONTROL:
Greddy Profec B
Greddy Turbo Timer
SPI Boost Gauge
INJECTION:
RC 550cc injectors
XS Engineering Rom Board w/ Chip
HKS Fuel Pump upgrade for 3000 GT VR-4
IGNITION:
B&M Voltage Amplifier to ignition and Fuel Pump
Magnecor plug wires

ENGINE:
K&N Air Filter
Modified Air intake boot
EGR Blockoff
Throttle body coolant bypassed
Pre 95 crushed Bypass valve
RS*R 3 inch exhaust
HKS External Wastegate
Imagine Motors Custom 3" downpipe
Imagine Motors Upper Pipe Kit
Imagine Motors Front Mount OIL Intercooler
Imagine Motors Front Mount AIR Intercooler
Imagine Motors Intercooler Pipe Kit
Imagine Motors 20G Clipped Turbo
Imagine Motors Ported Exhaust Manifold
Imagine Motors Ported O2 Housing
Imagine Motors Ported Turbine Housing
Imagine Motors Ported Throttle Body
Imagine Motors Ported Intake Manifold
Imagine Motors "Full Throat" Ported and Polished Head with
-Stainless Steel Valves "swirl polished"
-Upgraded Valve Seals
-Upgraded "double" Valve springs
-ARP Head Stud Kit
-HKS 264 Camshafts
-stock bottom end with balanced stock pistons
-new piston rings, compression like new.
-balance shafts removed
-8000 redline
TRANSMISSION:
New Transmission
Clutch Masters Stage 4 / 4 puck sprung disc
ACT lightened flywheel
SUSPENSION:
Eibach Springs Pro Kit
Nakayama Front Strut Bar
Z-Speed Rear Strut Bar
Koni adjustable shocks
AEM 13inch Slotted/Cross drilled Rotors
Nitto 450 Tires- 225/45/ZR-17
Spanking the competition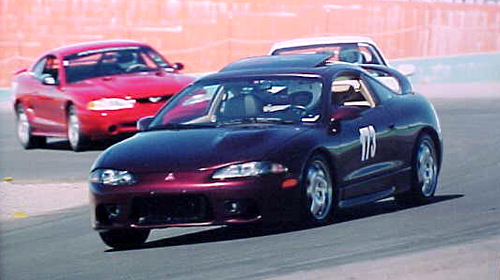 Best 1/4 mile Time: 11.70 @ 120.00 mph (see note below)
*Time slips from NHRA compliant Race tracks:
60ft - 1/4 mile time @ mph
**POMONA Raceway temperature 95 degrees
1.717 - 11.84 @ 117.12
1.715 - 11.96 @ 117.95
1.766 - 12.00 @ 118.51
1.957 - 12.01 @ 118.93
1.958 - 12.02 @ 118.51
1.859 - 12.08 @ 118.53
1.948 - 12.10 @ 118.63
**LACR Palmdale , elevation 2700 feet. Temperature 74 degrees
1.810 - 12.00 @ 117.00
corrected times for elevation approximately 11.7 @ 120.00 mph
**stop watch times and Gteck Performance meter results
Performed with 20G turbo and new head modifications:
*boost @ 20 psi
*101 octane unleaded gas
*0-60 = 3.4 seconds
*0-100= 8.3 seconds
*0-150= 20 seconds
*0-170= 30 seconds approximately.
*Top Speed= 175 mph @7400 rpm..
the first original website I made in 1999 for the Eclipse:
The ultimate sleeper, stock interior with turbo controller and Boost Gauge in console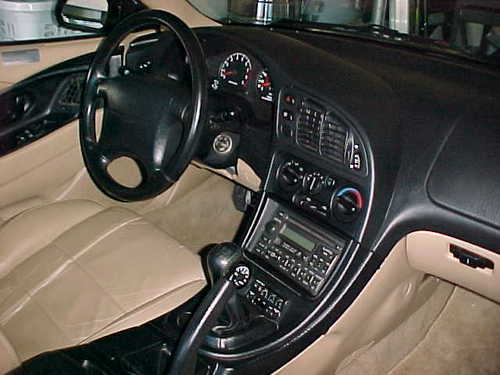 Boost gauge, Turbo controller and Turbo Timer nicely mounted in center console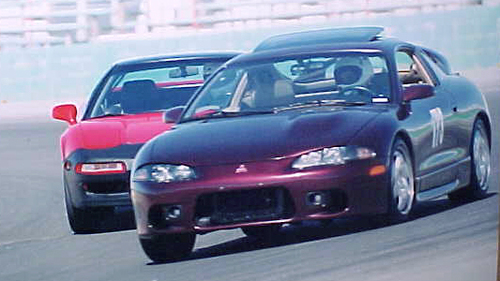 Chromed stock 17 inchers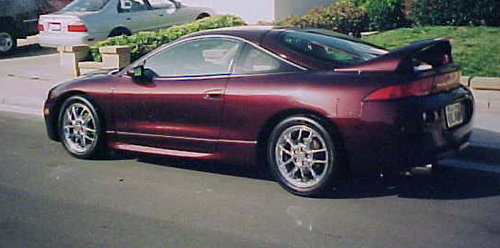 Brief Description
It was a sad time to let her go.