Porsche 987 Boxster S
2008 Boxster S
My name is Bill Diaz and just want to say thanks for visiting my website and page dedicated to my Porsche 987 Boxster S. Be sure to check out my other Porsche projects in the links to the left.
Unfortunately, the original QikQbn 986 Boxster with 3.4 liter conversion is gone to a new home. After almost a year without the Boxster I began to crave another roadster convertible. My very first car in highschool was a 1976 Fiat Spyder 1800 convertible. I have owned convertibles almost 25 years. So to be without one in sunny California was really starting to make me miss the Boxster. I was casually looking on and off for one when I just happened to find a pristine example down in San Diego. The older Gentleman, previous owner, had some knee injuries and could no longer drive a stick shift manual. He barely drove the car 500 miles over a year. With the used car market prices going crazy and skyrocketing, I figured now was the time to buy another Boxster before it gets even worse. We agreed on a fair deal and I could not be happier. This car, although 14 years old, looks and drives like brand new. Solid as a rock and the engine is strong and burning absolutely zero oil. I ran an ECU/DME read and the car actually never saw redline from any of it's previous owners! Just my kind of car to buy. Pristine and gently used over it's life time.
With 3 Porsche sports cars (997 C4S, + 2 987's) I wanted to keep them each a unique driving experience. The 997 vs 987 are already clearly very different driving dynamics, but what about having 2 987's?? Well, the 987 Boxster S comes with stock suspension and although a bit high for my taste, because I prefer a lowered look, the ride is absolutely comfortable and smooth as silk. In fact... compared to my previous Boxster on M030 lowered suspension, Cayman S lowered on Eibachs, and 911 C4S lowered on Eibachs with GT3 rear roll bar... it is actually refreshing to have this Boxster on a supple/stock suspension. I also have the short shifter in the Cayman/911, so I am going to keep the stock shifter in the Boxster. When I wrapped the Boxster steering wheel, I decided to keep the thumbrests off. These differences are enough to make each car feel very unique. Of course, the convertible nature of the Boxster makes a world of difference already. My Cayman and 911 feel like much more serious sports cars and more aggressive in the suspension and handling department. The Boxster is the one I would take for not only spirited drives, but great crusing along the beach and longer road trips where I prefer not to get beat up with lowered/stiffer suspensions. These 3 cars are so good for losing yourself in the driving experience and good for the soul!
Purchased May 2022 40,700 miles odometer.
| | |
| --- | --- |
| Exterior: | Meteor Grey Metallic |
| Interior: | Black Standard Leather |
| | |
| | |
| --- | --- |
| | Boxster S |
| 342 | Heated Front Seats |
| 369 | Standard Seats |
| 403 | 19" Carrera S Wheel |
| 446 | Wheel Caps with Colored Crest |
| 480 | Manual transmission |
| 551 | Porsche Windstop (Deflector) |
| 573 | Automatic Climate Control |
| 680 | Bose Surround Sound System |
| 810 | Floor Mats in Interior Color |
| 9Q | Meteor Grey Metallic |
| AN | Black Standard Leather |
| P12 | Self-Dim Mirrors & Rain Sensor |
| P74 | Bi-Xenon Headlight Package |
288 Headlamp washers
A must upgrade is getting the thin steering wheel padded and wrapped in nice leather. Makes a huge difference in your connection to the car and the overall feeling of a more luxurious/expensive ride.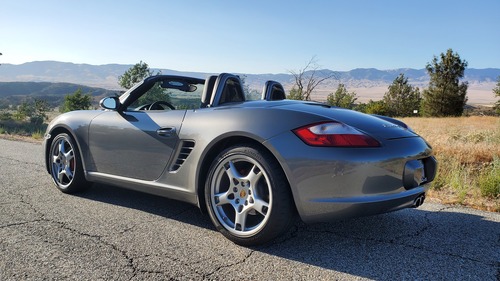 Rear 3/4 view is stunning on Boxster's!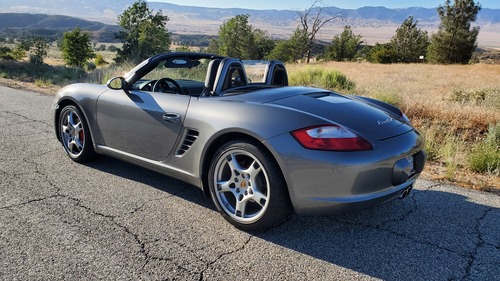 Love Meteor Gray Metallic. Has a lot of color changes based on sun light. Metallic really shows off the curves in the body!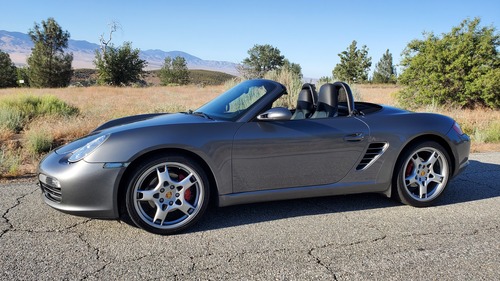 Steering wheel wrapped and Padded by Dallas Custom. A must have! Makes the car feel more luxurious and more confidence while holding steering wheel.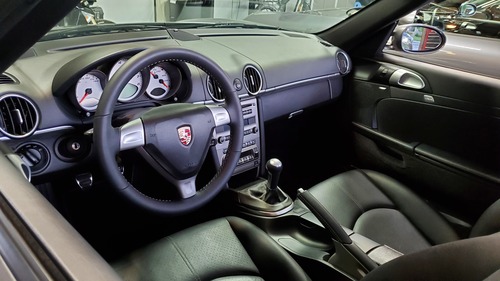 Midday Sun color changes.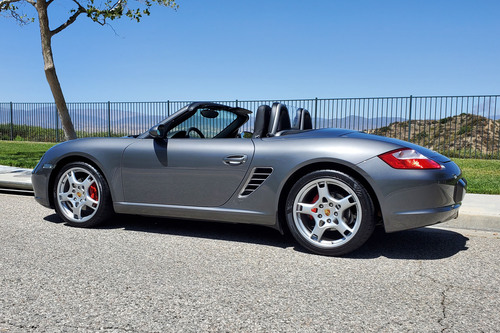 Welcome the 987 Boxster S to the stable.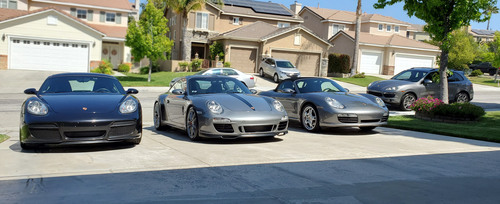 Enjoying it's new parking spot