Boxster Wheels and Tires and Wheels and Tires!
A quick trip down wheels and tires memory lane!
Originally when I first got my Boxster in 2000 it had 17's on for a few years:
-17x7 et 55 fronts with 205/50/17
-17x8.5 et 48 rears with 255/40/17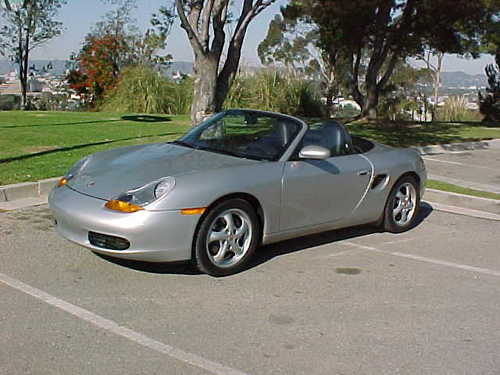 Then in 2003 when the Boxster S came out with the Carrera lightweight 18's -18x7.5 with 225/40/18 continental contact tires 7mm spacers -18x9 with 265/35/18 continental contact tires 7mm spacers I added those on to the car from 2003-2010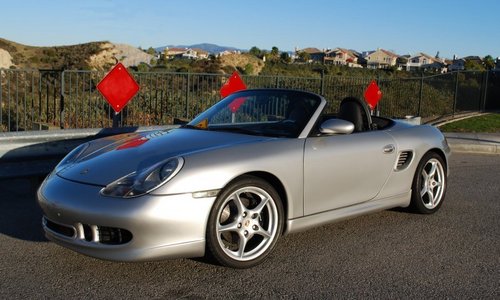 2010-2014 I had the 19 Carrera Sports on the car. Carrera Sport 19x8.5 et 55 front, 19x10 et 42 rear Tires Michelin Super Sports: -235/35/19 front with Brey Krause 11mm hub extended spacer -265/35/19 rear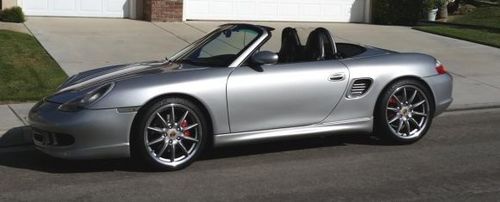 Going up one size from 18 inch to 19 inch wheels and tires will add a great new look. BUT, beware... or I should say, just be aware that you will feel the difference it rotational mass. The Carrera Sport Wheels are the heaviest Porsche makes and also some of the best looking. A great tribute to the monolite designs of the retro past. I love them! But you will feel that the car responds a tic slower in accelleration and that bumps in the road are more noticeable. you will also feel a heaviness in the steering wheel. I actually prefer the heavier steering feel, but the added weight and rubber can not be denied. I had gotten so use to driving with heavy 19s that when I put the Cayman 18s back on it made the car seem a bit more free and responsive. I still like the look of 19s better

One more angle with the Carrera Sports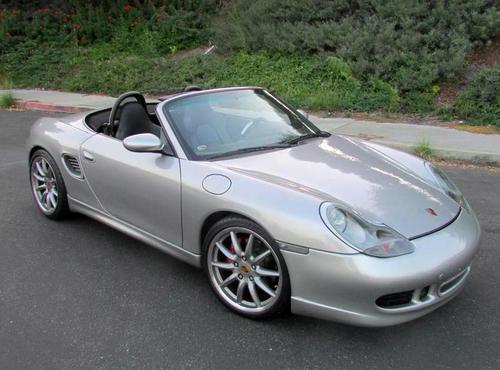 Cayman S 18 Inch wheels -8x18 et 57 front with 14mm extended hub spacers 235/40/18 Michelin Super sports -18x9 et 43 rear 5mm spacers 265/40/18 Michelin Supersports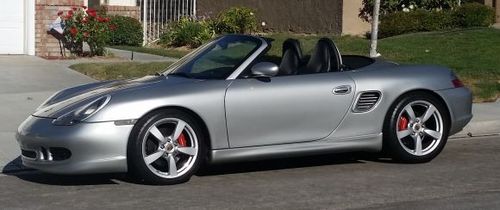 Update 10/2014
I was looking at getting some new wheels for the Cayman S to replace the stock 18 inchers with 19 inchers. I really like the 19 inch Boxster spyder wheels and I wanted to try out 19s on the cayman first before I commited to buy anything. So I took the 19 inch Carrera Sports off of my Boxster and swapped wheels with the Cayman... The Carrera Sports look really good with the Basalt black of our Cayman so I decided to leave them on the Cayman. The Cayman has normal non-pasm suspension and adding the 19s gives it a little sportier handling characteristic, but still a nice ride.
I put the cayman's 18 inch stock wheel on the Boxster for now. I think they actually look pretty good on the 986. I have to admit The 19s on the Boxster were a bit harsh over bumps with the ROW M030 lowered sport suspension. Especially here in California where our freeways are crap. So it is a nice change to have the Boxster's ride be a little more relaxed with the 18 inchers and slightly taller side walls of the tires. The 18's look much better on the Boxster then on the Cayman. This is mostly due to the Boxster's lowered suspension that draws less attention to the 18 inch rim's diameter then on the Cayman's taller normal suspension.
There is no denying that the weight makes a difference. I can definitely feel the weight of the 19's too. Both on the Cayman and on the Boxster. They are a heavier wheel combo but feel better on the Cayman with its softer suspension. It makes the steering feel a little heavier. The Boxster is feeling a bit happier with the lighter wheels and taller sidewalls in combo with its lower M030 suspension. Less freeway and rough road bouncing. Acceleration feels quicker too.
I have fairly new rubber Michelin Super Sports on the 18's So I think I will keep it this way for a little while. Eventually I may put the Boxster spyder wheels on to the Boxster, but for now the wheel swap makes me feel like I have some new rides to do some canyon runs in!
Spyder Replicas 19x8.5 et 50 front with 5mm spacer, 19x10 et 42 rear. Tires Michelin Super Sports: -235/35/19 front -265/35/19 rear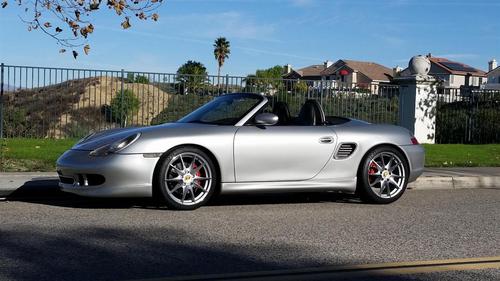 Update 12/2014 Aaaannnndddd.... Back to 19's... I enjoyed the 18's and softer ride, but just love the look of 19's. These are a spyder replica wheels and are silver painted with a nice machined lip and Y spoke. Got them from OEM Wheels Plus in Garden grove Ca. I admit I had to exchange a front wheel because it was not up to my standards and had a couple little nicks and paint defects... BUT I am REALLY picky and the guys there were top notch with service. Especially a guy named Timothy who was patient with me and wanted to make sure I was completely satisfied. So I recommend them for replica wheels that are inexpensive. They are not as heavy as the Carrera Sport 19's I had on before which is nice and they have a better 50mm offset on the front (vs 55 on Carrera Sport and 57 on Cayman 18's) so I only had to use a small 5mm spacer to get it looking just right (vs 11mm spacer on Carrera Sport and 14mm spacer with Cayman S 18's). Michelin Super Sports All Around 235/35/19 front 265/35/19 rear. Still getting use to the new look, but I really like them.